Tuff Hedeman Bull Riding Rolls Into Las Vegas, March 4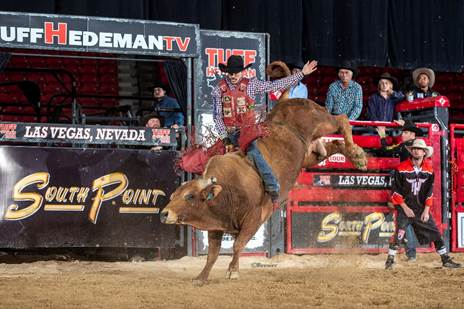 LAS VEGAS (Feb. 24, 2023) – High Scores and big checks are what 24 professional cowboys are hoping to earn as they head west for the Tuff Hedeman Bull Riding at the South Point Hotel & Casino Equestrian Center. On March 4, elite bull riding athletes will try to advance their Saturday night payday in the adrenaline rush event brought to Las Vegas annually by four-time World Champion and Pro Rodeo Hall of Famer, Tuff Hedeman.
The event will begin at 7:30 p.m. and will feature a field of 28 elite bull riders in a three round tournament style competition that will end in a sudden death final four Shoot Out round, worth at least $30,000 to the riders and $50,000 in competition prize monies for the bucking bull athletes.
Hedeman has announced that the seven-time NFR qualifier and million-dollar earner, Trey Benton, will lead the roster in experience but Kaiden Loud, the 18-year-old who won Hedeman's season opener in Hobbs in January, will be trying to knock Benton and the other seasoned pros off the winner's stand.
"These guys all have what it takes to ride at the highest level, you never know on what night who is going to make a great ride and then again it is Vegas where we usually have some surprises too," said Hedeman.
Bull riders have a chance to win large amounts of cash on Hedeman's tour stop at the South Point, making competing a priority to help finance their dreams of returning to Las Vegas in December for the National Finals Rodeo. Fans who were not able to attend NFR in December can take this opportunity to see several of the industry's perennial stars and see the industry's young guns at the South Point.
The four-time World Champion bull rider and Pro Rodeo Hall of Famer Tuff Hedeman, who presides over the annual event, confirmed that among the highlighted riders on the roster thus far are NFR qualifiers, Tyler Bingham, John Crimber, Brady Portenier, Ricker Carter, Kaiden Loud, Cannon Cravens, JT Moore, and Mason Spain, who is a past Steer Riding Champion of Hedeman's tour.
Hedeman's event also features the other side of the ride, the invitation-only THBRT Bull Team competition highlighting the first two rounds of competition where superstar buckers including World Champion and NFR bulls will compete in teams of three. The bulls are also looking for cash as they compete for over $50,000.
Additionally, Hedeman announced the return of J.J. Harrison, rodeo's top award-winning entertainer and barrelman will be back at South Point. Harrison will be signing autographs before the performance, roaming the crowd with merchandise giveaways and entertaining the crowd with his spontaneous humor.
Fans can catch Hedeman and the bull riders in person for selfies and autographs at Las Vegas Motor Speedway on Friday, March 3 from 3—5 p.m. at the South Point Booth and at Boot Barn on Saturday March 4, from 11 a.m.—1 p.m.
Tickets start at $23 for the event at 7 p.m. at South Point Arena on March 4 and are available here.
# # #
About South Point Hotel, Casino & Spa
Featuring more than 2,100 guestrooms, South Point Hotel, Casino & Spa overlooks the famous Las Vegas Strip and the serenity of the surrounding mountainscape. Each oversized guest room features state-of-the-art LED televisions as well as WiFi with high-speed internet connections. Guests visiting South Point Hotel will experience affordable luxury through a casino offering top-of-the-line gaming technology, over 2,200 slot and video poker machines, more than 60 table games and a separate race and sports book area, 11 restaurants, including the award-winning Michael's Gourmet Room, world-class Costa Del Sur Spa and Salon, a 400-seat showroom featuring headliner entertainment, a 700-seat Bingo room, a 16-screen Cinemark movie complex, a state-of-the-art 64-lane bowling center, a 52,000-square foot Conference Center and an 80,000-square foot Exhibit Hall. South Point Hotel is also home to the Tournament Bowling Plaza, a multi-million dollar professional bowling tournament facility. In addition, South Point Hotel has the finest equestrian event facility in the country. The 240,000 square feet of event space features three climate-controlled arenas, vet clinic, feed store, more than 1,200 climate-controlled stalls and plays host to some of the country's most unique events. South Point Hotel, Casino & Spa is at 9777 Las Vegas Blvd. South, Las Vegas, NV 89183.
"Official Hotel and Casino of Las Vegas Motor Speedway" and sponsor of the October 2023 Las Vegas NASCAR cup race, South Point 400. In addition, South Point's Sports Book is home of Vegas Stats & Information Network" (VSiN), where you can listen to the broadcast on iHeart radio and watch the video livestream on VSiN.com.
For more information or for room reservations, call (702) 796-7111 or visit the South Point Hotel, Casino & Spa website. Connect with South Point on Facebook, Twitter, YouTube, and Instagram.
South Point Hotel Media Contact
Kirvin Doak Communications
(702) 737-3100
Lynne Ravenscraft, Director of Marketing
RavenscraftL@southpointcasino.com
Other Upcoming Events
INFR Indian National Finals Rodeo
Oct 24th - 28th  
Tickets On Sale Soon
Visit Website
Benny Binion's World Famous Bucking Horse and Bull Sale
Dec 7th  
Tickets On Sale Soon
Visit Website
Miss Rodeo America Horsemanship Competition
Dec 5th  
Visit Website
More Information